So today is a pretty cool day.
And I love

GREEN

as much as the next guy...
But I think the forgotten St Patty's Day color is ORANGE!
Alright but lets be honest.
Orange isn't the BEST color or the most FLATTERING or colors.
Actually, I usually only associate it with Halloween and pumpkins.
But for this Saturday Color Scheme, I decided to pay tribute to the color:

ORANGE!!!
Love this orange dress!
I enjoy these...I don't know if I could pull them OFF howwever....
This cabinet would be a nice accent in a living room!
I actually love this picture and color!
Even orange food!


I thoroughly enjoy all things orange right now.
I even bought these: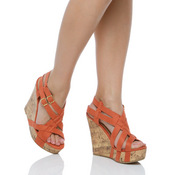 What orange items do you enjoy??